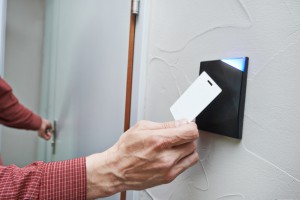 Take control of access to your facility with a comprehensive managed access system. At Inner Security Systems, Inc., we offer systems that allow you to control access to every building, room and entry/exit point in your facility. From protecting data and equipment to monitoring traffic in and out of work spaces, we have the technologies and expertise to design simple to highly complex access systems.
Our Central Station Monitoring Center is staffed 24/7 with industry veterans trained to recognize and react to any type of alarm or issue. We can install hardware anywhere in your facility, from a single entry point to card readers in every room. Hardware includes:
All of our systems are installed by licensed security industry professionals. Learn more about what to look for in a security systems contractor.
Contact us by email or call 630-554-7878 today for a free security assessment!